Fits any guitar or bass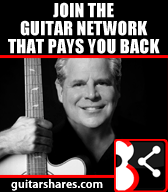 Guitar Skin


Developed to work with almost any guitar, Guitar Skin transforms the finish of any guitar or bass into a great looking, custom designed musical instrument inexpensively with pro quality results. Guitar skin is the same high resolution, laminated vinyl guitar wrap material used by Brand O' Guitar Company and is proven to look better and last longer for the price than any other finishing method.

Show Me Some Skin...